M.A.D.D. Skills (Media Arts and Digital Design), providing public access to digital and design education programming in New Orleans.
The mission of the MADD Skills program is to make education, resources and economic opportunities through digital mediums publicly accessible to underserved communities in New Orleans Parish through free to low-cost programming.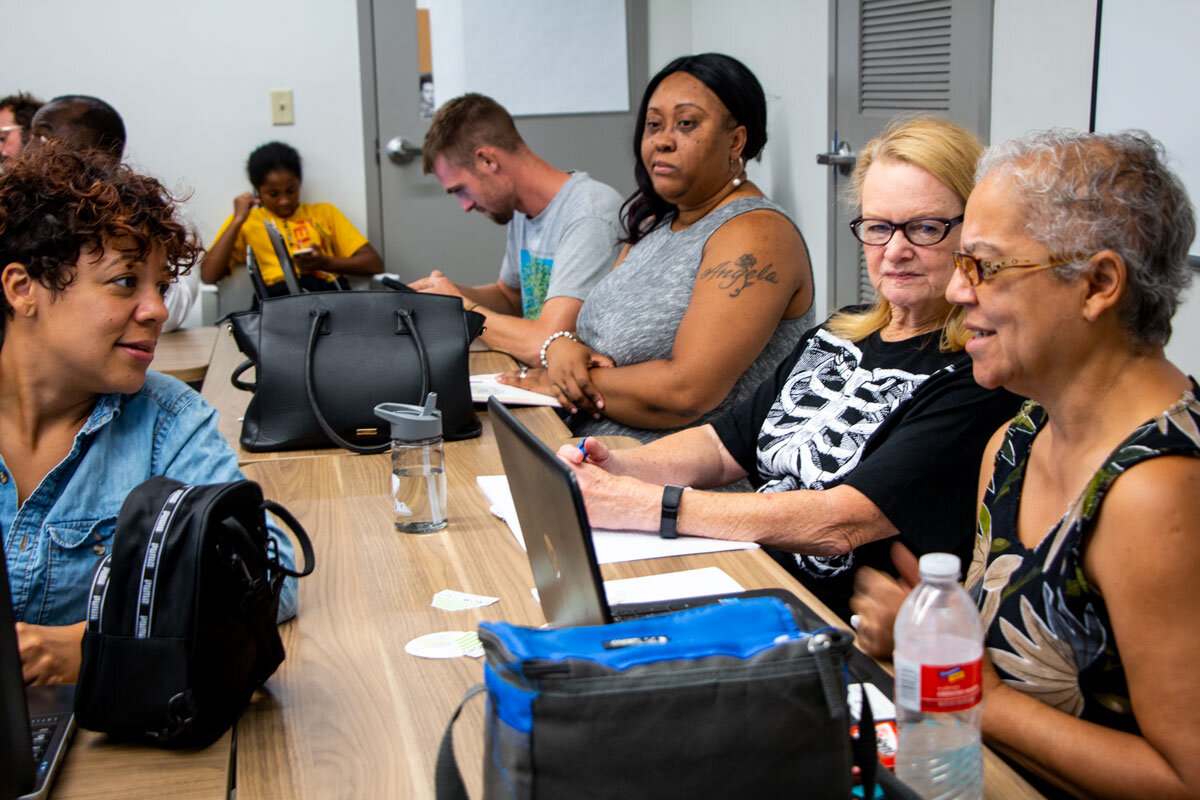 FREE TO LOW-COST DIGITAL LITERACY WORKSHOPS
COVERING SKILLS IN

GRAPHIC DESIGN, PHOTOGRAPHY, PRODUCTION, VIDEOGRAPHY

AND PRINCIPLES IN

MARKETING, FINANCE, LEGAL, AND MANAGEMENT.
Our fundamentals for economic development
Education
Members of our community can take non-certification or certification courses, provided by experienced instructors, to develop skills in graphic design, basic marketing principles, photography, and more. Our courses are designed to teach participants how to adapt these skills in a corporate or entrepreneurial setting.
Resources
Members of our community will have access to educational resources, equipment, and space to aide in their development and productivity. Members will be able to rent/borrow production equipment, utilize studio space, and tap into a network of other creative professionals with their membership.
Opportunity
Members of our community who have completed and received certification for advanced coursework can become eligible to teach classes as paid teaching artists. Members who have completed certifications in advanced coursework become automatically eligible to join our database of professionals for hire.
We focus these efforts on the local community by requiring that members have an address located within the New Orleans Metropolitan Statistical area.
We've already proven demand for these types of courses through our digital marketing & design company, Growhaus Studio, where we provide digital marketing & design workshops to local entrepreneurs and small business, in collaboration with local accelerator and incubator programs. M.A.D.D. Skills is an extension of this work to the local community. The number 1 stressor for industry leaders is finding qualified workers to fill the design and software positions.
The four-week pilot program
Offers two free beginner's courses at accessible locations throughout the city over the span of four weeks, that introduce participants to a new digital skill that can be applied in professional workspaces.
We're diving into a new skills with courses like:
Digital Marketing Basics for Business

Intro. to Photoshop for Business

Branding 101: Create a Premium Brand on a Budget

Intro. to Google Suite

Mobile Phone Production

Fundamentals of Digital Storytelling
How much does opportunity cost?
With $15,000 we can launch our 4-week pilot program which offers community members the chance to enroll in two (2) non-certification skill building workshops and support the following three months of operation while we work to gain funding and generate support for the program.
Launching the M.A.D.D. Skills pilot program will require funding for a location to host two separate classes of up to 20 students, over the course of four weeks, any digital software that may be required for courses, experienced course instructors, promotional efforts, and community outreach.
Facility Rental
General Admin
Payroll and Wages
Marketing & Advertising
TOTAL
$1,300
$500
$1,590
$1,000
$4,390
Our goal is to be able to reduce this cost over time with the help of partners and sponsor who have shown a commitment to the City of New Orleans, which we can leverage to donate space, resources, and funding.

Reaching our goals.
Our goal is to build awareness within the local community to increase participation in the courses as well as to generate interest from local and national sponsors to support our mission. Our long-term goal is to purchase a space to house M.A.D.D. Skills. We anticipate this program to be the first phase of a three-phase plan to create a physical space that houses digital education courses, free digital and creative resources, and a platform for creative professionals to develop culturally relevant media and art, to be known as the M.A.D.D. Haus. The sooner we can invest in space, the more variety in courses, resources, and opportunities we can provide for the community.
Our goal is to launch the M.A.D.D. Skills pilot program within three months of receiving funding. Within those three months we will:
Implement a marketing plan which includes digital and print advertising and community outreach

Confirm a location to host courses and workshops

Hire a Program Manager and Grant Writer

Hire qualified course instructors to teach the course curriculum
Our goal for the M.A.D.D. Skills Pilot Program is to equip local community members with new hard, digital skills that they can utilize professionally and to learn more about how New Orleaneans' talents can be harnessed and shared. We will also look to attract the attention of local community funders who are dedicated to the economic development of New Orleans and can help us move forward to build this program.

What else you should know.
Growhaus Studio is a digital marketing & design company dedicated to supporting small businesses in underserved communities. We offer a range of marketing support services through consultation & design for web, print, and social media.
We believe entrepreneurship will lead to innovation in all industries, beginning with the small businesses that drive our economy. That is why we are dedicated to producing quality content for companies, allowing them to compete online with larger, more popular brands. It is that foundation that drives us to innovate for businesses as a creative agency and is sharpening our ability to launch our own digital products and companies.
Founded in 2015 as Growhaus Foundation LLC

Headquartered in New Orleans, LA

Co-Founder, Dana Blandin, holds a BS in Organizational Management & Business Law from the University of Miami School of Business and is the Director of Business Development for Growhaus.

Co-Founder, Jasmine Henderson, holds a BS in Multimedia Journalism & International Studies from the University of Miami, School of Communications, and is the Creative Director at Growhaus Studio.

GrowHaus Studio has been developing this concept internally for over a year, while simultaneously creating the relationships required for us to make this program successful with the local community. With your support, we're ready to hit the ground running, and would be glad to provide any other information about the program, our credentials, or other need to know information that will support your decision making. Learn more about our team.